Automation & Robots
| 8 MINUTE READ
An Ohio manufacturer deployed nine collaborative robots to improve and optimize the work environment, automating hard-to-staff tasks such as machine tending, assembly and product inspection.
#covid-19
Automation & Robots
Machine Tending Robotic Cell features portability, easy setup and programming, high performance and safety layout for both job shops and larger scale production environments.

Automation & Robots
System includes a RoboDrill D21SiBadv Vertical Machining Center Series, which has several different pre-engineered end-of-arm and infeed/outfeed options for a range of part and capacity requirements for medium-volume applications.

Automation & Robots
The modular, compact and portable design of the Lite Series conveyors make them easy to integrate with existing equipment and easy to move around when jobs or processes change frequently.

Automation & Robots
5 MINUTE READ
Many shops appreciate that cobots are easy to program and enable collaborative operation, but there might still be questions about how to install them.
#techbrief
Automation & Robots
Machine accommodates multiple infeed and outfeed options for a range of part and capacity requirements.

Bar Feeders
After years of relying on an extensive machining cell for part production, this marine equipment manufacturer has now reduced part handling and improved quality through use of single-setup lathes and automated loading and unloading.

Automation & Robots
Kurt Workholding's RV36 Gripper is a quick-change robotic arm gripper that saves space and improves efficiency with quick-change, customizable jaws and custom accessories.

Automation & Robots
The systematic implementation of Industrial Artificial Intelligence enables secure data sharing among manufacturers, remote monitoring and operations, managing geographically distributed assets and more.

Automation & Robots
FastLoad CX1000 is a simple to use, flexible cobot that can be outfitted with up to three modular carts to handle a wide variety of parts or allow more parts in the queue.

Automation & Robots
Pallet changer system added to a machining center enables unattended machining.

VIDEOS
Automation & Robots
Before investing in a collaborative robot, consider conducting a risk assessment to make sure the man and machine are matched to the application.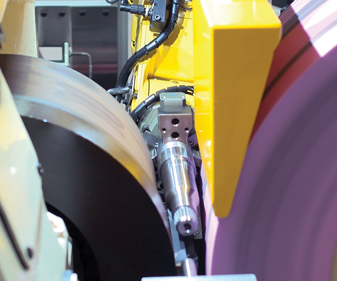 Grinding
Like many shops facing changes in customer demands, Pennsylvania-based American Turned Products (ATP) is making the necessary adjustments and adding operations to continue to compete in the difficult, high volume market. One of those adjustments is the company's recent installation of an automated centerless grinding cell.

Bar Feeders
One of the advantages of a Swiss-type lathe is that once you've set up the bar feeder, you're good to go until you run out of barstock. This accumulator simplifies the other end of the operation.

Automation & Robots
10 MINUTE READ
Two seven-axis robots enable two second-op mills to run lights out eight hours in the evenings to win 64 hours of unattended machining time per week for this Ventura, California, shop.

Automation & Robots
Roid series provides simple, reliable robotics for automating machining tasks.

Automation & Robots
Maybe not. But, the candy-throwing robots at MetalQuest's Nebraska facility do enable the contract machine shop to stand out at career fairs and similar events.

Automation & Robots
Choosing a robot rental or leasing plan might be a wise business decision compared with purchasing a robot outright.
#techbrief
Horizontal & Vertical Lathes
This inverted vertical turning machine can perform hard turning and grinding of chucked components such as gears while loading and unloading material and completed parts itself.

Automation & Robots
OB7-Stretch can tend multiple machines at one time when the robot needs to reach more than one machine and when the robot needs to reach deeply into a machine.

Cutting Tools
Friend or foe? Helper or fiend? Here's what robotics really mean for the cutting tools industry and which pitfalls to avoid.