Here's a machine with the flexibility to provide consistent results on complex, high-value medical parts, working from bar to box with minimal human intervention.

The All Axes Live event highlighted the newest technology from Mazak and enabled the more than 400 attendees to access 16 video on-demand demos for different featured machine tools.

Starrag's Bumotec s191 mill-turn center can reduce lead times by completing a range of different tasks in a single setting.

Engineers at the University of Sheffield Advanced Manufacturing Research Center (AMRC) used a turn/mill center to reproduce a series of tiny portraits of Queen Elizabeth II, down to only 1.4 mm wide, onto brass.
#micromachining
12 MINUTE READ
New equipment and software continue to be developed to support the needs of production machine shops like yours. Here's a sample of technology now on the market that can help you grow your operation and become more efficient.

The photo I added to my LinkedIn page shows the application of nifty CNC technology enabling a turn-mill to machine a complex medical device complete. It certainly seemed appropriate.
#medical
Unit allows maximum part length and performing left and right simultaneous machining

The machines are designed to perform complex milling with standard live tools, and an optional 360˚ B-axis extends milling capabilities

An 8,000-rpm milling turret offers 12 tool stations with 24 indexing positions.

The Mazak GR100 integrates into any of the Quick Turn 200/250 series machine models.

In a world-first live demonstration, Ceratizit showed its High-Dynamic Turning process during the company's Open Days 2019 in Austria. The technique uses a turn-mill center's milling spindle to perform the turning process.

7 MINUTE READ
A shop in Big Sky Country uses a B-axis multitasking machine to produce complex, prismatic medical parts that require no turning complete from barstock.

VIDEOS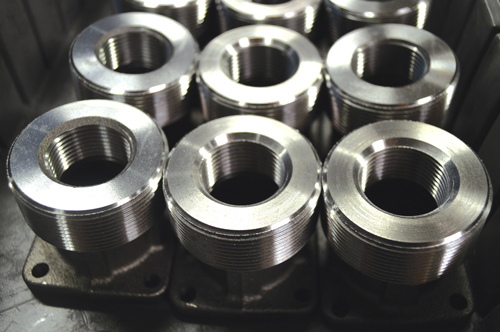 This Indiana shop made a leap from manual machining and basic CNC technology to a sophisticated turning cell and has not looked back. It's been a customer driven transition.

With the new Okuma CNC lathe multitasking production center, this company is increasing the size of its net, going after new markets, taking a hard look at aerospace engine coolers and a large array of medical applications.

An international player in the highly competitive aeronautics, automotive, defense and optical industries makes the most of software for multitasking program verification and optimization.

9 MINUTE READ
After years of relying on an extensive machining cell for part production, this marine equipment manufacturer has now reduced part handling and improved quality through use of single-setup lathes and automated loading and unloading.

Working closely with its machine tool supplier, this firearms manufacturer has quickly expanded its lineup of turning machines to deliver quality products and faster delivery.

To produce a completely U.S.-made product and keep the pressure on its off-shore competition, an industrial pump manufacturer leveraged its multitasking capabilities with other resources for internal efficiency.

These high-speed machining centers offer milling, drilling, tapping, deburring and chamfering.

Starrag's XXL milling/turning center offers accuracy because of its rigid design and hydrostatic guide concept.

Threading is usually the last operation when machining components, which is why the process needs to be reliable and highly precise. DC Swiss has developed an internal thread whirler, which leaves micro threads burr-free, even in demanding, hard-to-machine materials.

Index Group welcomed a large assembly of existing and potential customers to its Open House 2019 event in March at the company's plant in Reichenbach, Germany.