Swiss-Types
This almost three minute video shows the process of machining a bone screw on a Swiss-type lathe.

Grinding
United Grinding's Digital Solutions simplifies and optimizes grinding production processes and service.
#Industry40
CAD/CAM
This machine shop 3D prints a plastic plug that it inserts into the end of tubing to prevent chips and coolant from entering the lathe's bar feeder. It offers a free CAD model of it for other shops machining that material.
#horizontal-and-vertical-lathes
Machining Centers & Milling Machines
10 MINUTE READ
Two seven-axis robots enable two second-op mills to run lights out eight hours in the evenings to win 64 hours of unattended machining time per week for this Ventura, California, shop.

Turning Machines
Machine features high-torque, built-in gear-driven spindle that reaches up to 1,800 rpm.

Turning Machines
The VL 1 Twin-spindle pick-up turning machine simultaneously machines two identical bevel gears at high speed within the same machining area.

Grinding
This machine shop's in-house grinding capabilities offer many advantages for itself and for its customers, including time and cost savings.

Grinding
6-Axis tool grinder offers new options for grinding solid carbide boring bars.

Automation & Robots
This inverted vertical turning machine can perform hard turning and grinding of chucked components such as gears while loading and unloading material and completed parts itself.

Turn-Mills
The All Axes Live event highlighted the newest technology from Mazak and enabled the more than 400 attendees to access 16 video on-demand demos for different featured machine tools.

Single & Multi-Spindles
6 MINUTE READ
An early adopter of multitasking equipment, this Nebraska contract manufacturer has taken what it feels is the next logical step to diversify by adding a multi-spindle for greatly reduced cycle times on an existing high-volume job.

VIDEOS
Swiss-Types
Adding laser cutting to Swiss-type machining is helping this shop do more work for its customers in the medical industry.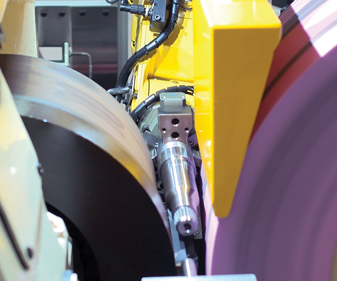 Automation & Robots
Like many shops facing changes in customer demands, Pennsylvania-based American Turned Products (ATP) is making the necessary adjustments and adding operations to continue to compete in the difficult, high volume market. One of those adjustments is the company's recent installation of an automated centerless grinding cell.

Horizontal & Vertical Lathes
Videos show various firearms cut with high-speed precision on Okuma machining centers and a horizontal lathe.

Turn/Mill Machines
12 MINUTE READ
New equipment and software continue to be developed to support the needs of production machine shops like yours. Here's a sample of technology now on the market that can help you grow your operation and become more efficient.

Transfer Machines
An Australian company has been able to speed delivery of its popular plumbing products to U.S. customers by adding machining and assembly cells to produce brass fittings in Alabama.

Turn/Mill Machines
Starrag's Bumotec s191 mill-turn center can reduce lead times by completing a range of different tasks in a single setting.

Machining Centers & Milling Machines
Easy-to-use CNC machine pairs with intuitive software to enable product designers, educators and engineers to make, prototype and build right out of the box.

Turn/Mill Machines
Engineers at the University of Sheffield Advanced Manufacturing Research Center (AMRC) used a turn/mill center to reproduce a series of tiny portraits of Queen Elizabeth II, down to only 1.4 mm wide, onto brass.

Swiss-Types
MCC's M532 VIII and L12X have added capabilities to improve productivity.